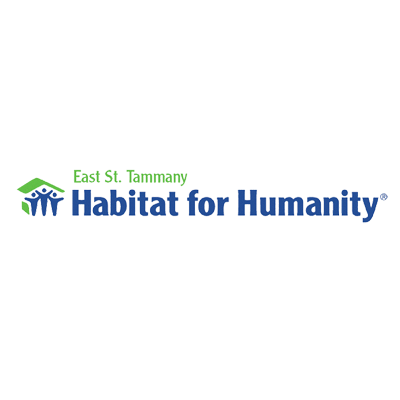 EAST ST. TAMMANY HABITAT FOR HUMANITY
Executive Director: Kentrell Jones
Year founded: 1992
440 Brownswitch Road, Slidell, LA 70458
985-639-0656
www.esthfh.org
Mission: Seeking to put God's love into action, Habitat for Humanity brings people together to build homes, communities and hope.
What we do: Build affordable housing for the community in need
Signature project: Louisiana Veterans Festival   www.laveteransfestival.com
ABOUT US:
East St. Tammany Habitat for Humanity was incorporated in 1992 by a group of East St. Tammany residents who were participating in a local Bible study of Experiencing God by Henry T. Blackaby. After deliberate prayer, the core group was determined that they were to start addressing the need for decent, affordable housing in the eastern side of St. Tammany Parish, including the communities of Slidell, Lacombe, Pearl River and Alton.  Their inquiries led to a partnership with Habitat International (HFHI) and their first house build in 1994. Today, ESTHFH has built 140 homes in partnership with community sponsors.  Our 141st & 142nd homes were started in 2019, with one scheduled for completion in Spring 2020.
Since our incorporation, we have served 436 family members in eastern St. Tammany Parish. A major reason for our success has been the development of strong partnerships with more than 100 businesses and churches on both a national and local level.  We continue to focus on our mission and to look for new needs arising in our neighborhood and communities we serve.
THE HABITAT MODEL
The Habitat model is designed to sell homes, NOT GIVE THEM AWAY, to low income partner families, and finances them with affordable mortgages.  The Partner Families selected must demonstrate three qualities – the ability to repay a no-interest mortgage, a need for safe, decent, affordable shelter and a willingness to partner.
Each family must commit to 250 hours of "sweat equity."  These hours act both as a down payment for the home as well as a sign of commitment to a new chapter in the family's life.  They work alongside volunteers and affiliate construction crew members to build both theirs and their neighbors' new homes.
The family signs two mortgages at closing – the first is for the monthly payments to repay the principal – the construction cost.  The second is a "silent" mortgage which is the difference between the appraised value and the construction cost.  One twenty-fifth (1/25th) of this note is forgiven annually.  This practice protects the homeowners from predatory lenders and insures these homes are utilized for their intended purposes.
One of the beauties of the Habitat model is that there is room for everyone at the table.  It doesn't matter where we live, what we look like, what we believe, whom we voted for, or even if we've ever picked up a tool in our lives.  Each of us can help create promise and stability in partnership with families in need of a better place to live.