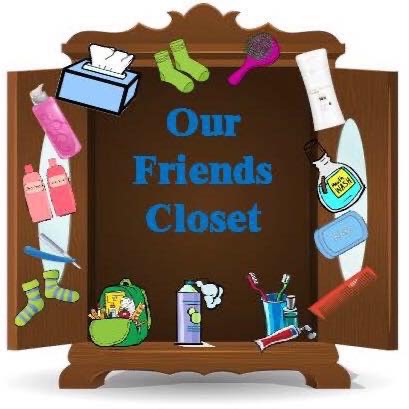 Wendy Keller, Founder / Director
Non-profit Organization
Established 2017
P O Box 1373, Slidell, LA
504-220-7195
Facebook: facebook.com/OurFriendsCloset01
Website: https://www.ourfriendscloset.org/
Mission: To provide free hygiene and basic care items to low income, homeless and unaccompanied students in our community.
Who we are and what we do:
We set up Our Friends Closet to provide free hygiene and basic need items to low income and/or homeless students with our first delivery in January of 2018. By April 2018 we had delivered hygiene, basic need products and individually wrapped snacks to 20 Junior High and High Schools in St. Tammany Parish.
We have since added schools in St. Bernard Parish, Washington Parish, Bogalusa, Tangipahoa Parish, Jefferson Parish and Ocean Springs Mississippi providing much needed items to 60 schools / 1500 + students.
We have had 130 students adopted for Christmas gifts. We provide monthly birthday gifts, and have been able to assist students with other needs based on feedback from counselors at schools.
We have joined Northshore Collaborative as a way to partner with business and community leaders to network and share information and best business practices with the goal of sharing information on the need these students have in our own community, recruit volunteers that are as passionate about our community and to brain storm with others to help our Slidell area grow and develop.